Opal Aura Cluster-Champagne Aura Cluster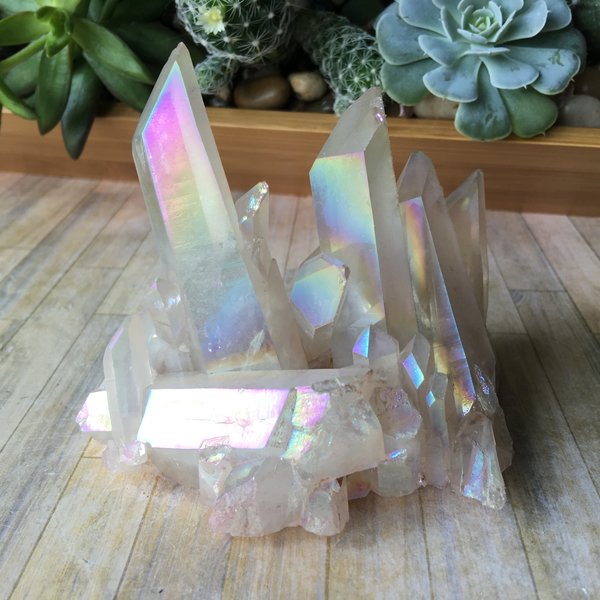 This stunning Large Opal aura quartz cluster is not only beautiful but it carries positive and healing energy. This piece would make a great addition to any space, add to your collection, give as a gift or used it for healing. This Opal Aura Quartz Cluster measures approximately 101x58x76mm and has been infused with Reiki healing energy.
Aura crystals are artificially enhanced, its intense energy is a result from the alchemical process that bonds gold and other precious metals to various gemstones and fossils. This Opal aura Quartz is produced from bonding platinum to Himalayan Pink Quartz; therefore giving it its iridescent champagne luster.
Healing Properties:
Opal Aura quartz brings about a state of total union with the divine and cosmic consciousness. Like a rainbow signifying hope and optimism it brings joy. Purifying and balancing all the Chakras, it integrates the light body into the physical dimensions and opens a deep state of meditative awareness.
Quartz is known as the "master healer" and will amplify energy and thought, as well as the effect of other crystals. It absorbs, stores, releases and regulates energy.
Quartz draws off negative energy of all kinds, neutralizing background radiation, including electromagnetic smog or petrochemical emanations. It balances and revitalizes the physical, mental, emotional and spiritual planes.